This YouTube video demonstrates the setup and basic use of the CamRanger Share application.
Only a single device (tablet, smartphone, or computer) can control a single CamRanger at one time. However, multiple devices can receive thumbnails, pictures, and the live view stream with the separate CamRanger Share application. The photographer still uses the normal CamRanger application, and other devices use the CamRanger Share application.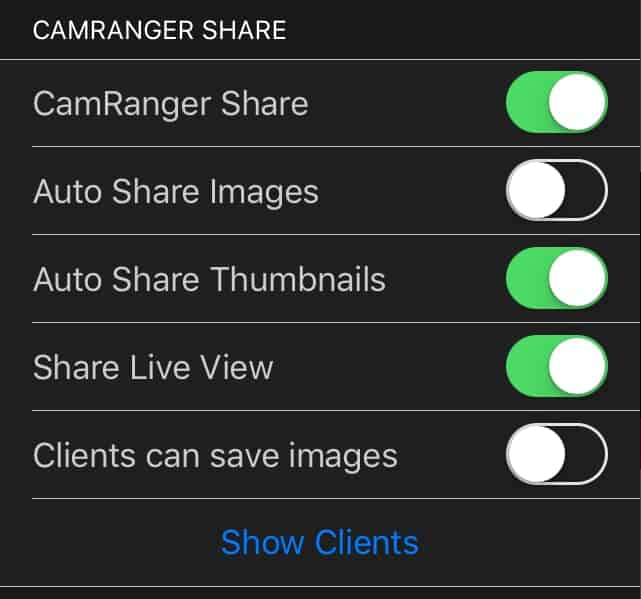 To share images with CamRanger Share, it must first be enabled within the CamRanger application, in the Image Transfer section. Once enabled, the following settings can then be configured.
Auto Share Images – automatically share images the first time it is viewed/downloaded
Auto Share Thumbnails – automatically share thumbnails as images are captures
Share Live View – enable sharing the live view stream
Clients can save images – enable clients to save images with the CamRanger Share app (note this is only applicable to the CamRanger Share app on mobile devices)
In addition to automatically sharing images, images can be individually shared. When viewing an image, select the context button ". . .", select "Share", and then select CamRanger Share.
The CamRanger Share application is compatible with the CamRanger 2 and original CamRanger, but not the CamRanger mini. This article refers to using the CamRanger 2, but is mostly the same for the original CamRanger.